Premium Quality
The straps and material we use are come from a German manufacturer, we're picking the best quality for the setup you choose (Plastic / Metal) .
Some even have a breaking load of 200kg !

We use polypropylene straps and nickel-plated steel hardware that are very strong and durable.
Our products are water resistant and you have washing instructions sewed on them (Usualy hand wash).
All products are carefully hand sewn. We use an X-stitch to ensure that everything is produced for maximum durability. You won't see any seams ripping!
We use both 25 and 40mm wide straps.
Plastic & Metal
You have a choice between plastic and metal material.
For obvious reasons, metal material is much more durable than plastic. But that doesn't mean that plastic material breaks easily. You can always choose plastic buckles for your normal use. If you intend to use the sling for more brutal action, such as sudden hard pulls, you should probably choose the metal buckles.
Color options
You can choose from 16 colors :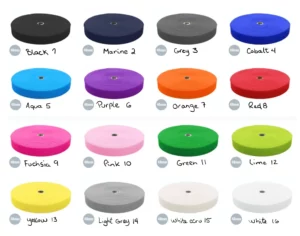 Suited for all
Our harnesses are designed to fit almost everyone. Most of the straps are adjustable (10-20cm).
So you can wear the product with a fursuit for example.
If in doubt, do not hesitate to contact us.
Here is where you should measure yourself: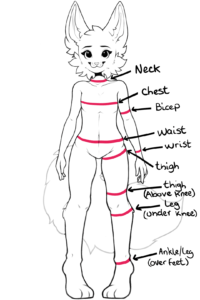 show