Quality
The straps and material we use are of very high quality and come from a German manufacturer. We use polypropylene straps and nickel-plated steel hardware that are very strong and durable. Everything is also water resistant.
All products are carefully hand sewn. We use an X-stitch to ensure that everything is produced for maximum durability. You won't see any seams ripping!
Thickness 1.4mm
All of our straps are 40mm wide and 1.4mm thick at the base. There is a significant difference between these three options.
The 1.4mm webbing is much easier to bend and has a softer feel.
Materials
You have a choice between plastic and metal material.
For obvious reasons, metal material is much more durable than plastic. But that doesn't mean that plastic material breaks easily. You can always choose plastic buckles for your normal use. If you intend to use the sling for more brutal action, such as sudden hard pulls, you should probably choose the metal buckles.
Color options
Choose between over 16 colors! Here is an overview of our options: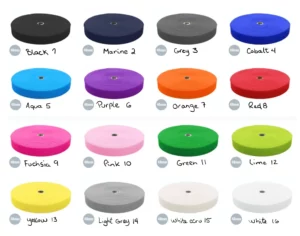 It fits everyone
Our harnesses are made to fit pretty much everyone. Almost every strap is adjustable by 20cm-30cm (8"-12") which makes it easy to fit you in even with a padded fursuit.
There are 2 sizes to choose from. You can find the exact measurement infos on every product description page.
Here is where you should measure yourself: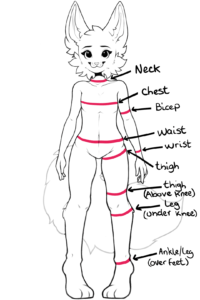 show